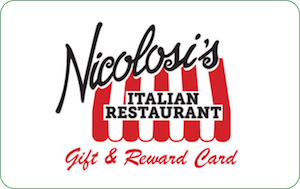 Join Nicolosi's Rewards Program ...
and start earning rewards today!
Become an exclusive member of Nicolosi's Rewards and receive:
• Earn 1 Point for every $1.00 you spend.
• Accumulate 150 Points and receive a $10.00 Reward.
• 50 BONUS points when register online.
• Receive a Birthday Reward.
• Click the Register Button to sign up NOW!