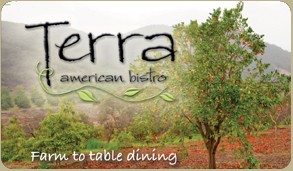 Terra Restaurant Loyalty Program
Join Terra's Loyalty Program
and start earning rewards today!
• Earn 1 Point for every $1.00 you spend
• Accumulate 250 Points and receive a $20.00 Reward Credit, valid on next visit.

• Earn 25 Bonus Points just to say Thank You for registering.
• Special Offers just for you!

• You need to be registered to earn rewards

• Click the Register Button to sign up NOW!